We Have The Specialized Equipment To Restore Your Rocky Point Home Properly After Water Damage
1/21/2020 (Permalink)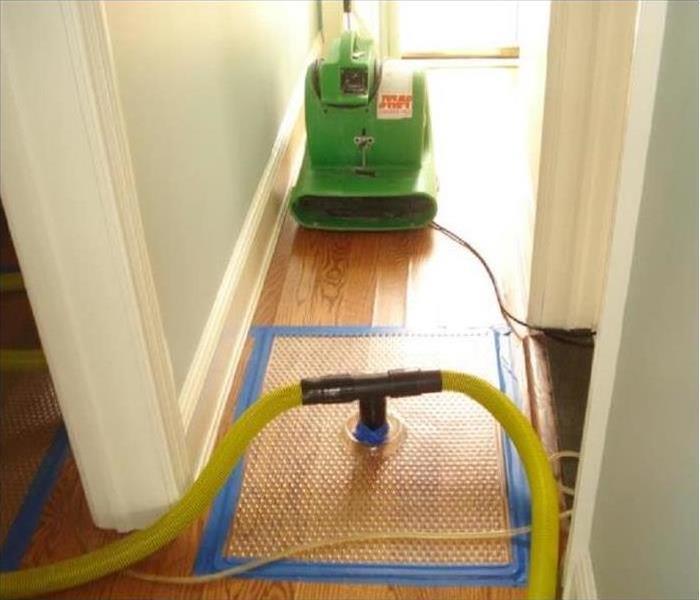 Our drying techniques salvaged the saturated wood floors in this home, saving the home owner thousands of dollars.
Discovering Water Damage in Your Rocky Point Kitchen
A burst pipe in your kitchen, even when there are minimal amounts of water spilled into the room, can cause a massive headache. Not only is your daily routine impacted, but you may be facing unexpected expenses. After you have mopped up excess water and dried your kitchen floor, it is crucial to inspect the rest of your kitchen to see if your cupboards and your baseboards have incurred any damage.
When you notice water damage in your Rocky Point kitchen, perhaps near the baseboards or the cupboards, it is essential to take care of it right away to mitigate secondary damage such as dangerous mold infestations or warping of expensive wooden cabinets.
SERVPRO water restoration technicians use specialized equipment to assess and take care of the water damage. In the case of water absorption into your cupboards and baseboards, it is important to use inspection devices to determine the exact location of moisture pockets and the level of moisture within the impacted areas.
Thermal imaging cameras (infrared cameras) identify temperature differences on the surface of the material. The surface of wet material is a different temperature than dry materials, so using thermal imaging cameras allow technicians to identify which areas need further attention quickly. Depending on the time of day and the temperature within the room, the wet surface may be warmer or cooler than the dry surface.
Wet surfaces retain temperature differently than dry surfaces. One reason is that when water evaporates from a surface, it cools the surface, indicating moisture. The other thing to consider is thermal capacitance, the capacity of a substance to store thermal energy. Water damage has a high ability to store heat, so the temperature changes slower than dry materials. If the air in the room becomes colder in the evening, the surfaces with moisture with store heat longer than the surfaces without moisture. Conversely, if the air in the room becomes warmer during the day, the surfaces with moisture stay colder longer than the surfaces without moisture.
It is important to note that thermal image cameras are just one of the tools used by SERVPRO technicians to detect moisture since they do not detect moisture under the surface of the material. For specific moisture levels, technicians go on to use moisture meters before beginning specialized drying procedures.
For 24/7 assistance after a burst pipe, contact SERVPRO of Port Jefferson at (631) 476-5300.
See more about Rocky Point.