The Secret of Successful Commercial Water Damage Remediation in Stony Brook
7/3/2019 (Permalink)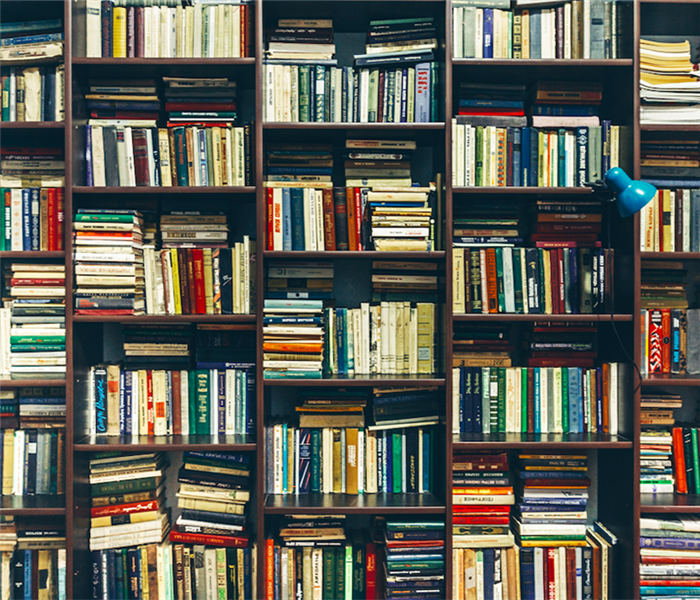 Commercial water damage to a library in Stony Brook can pose a serious threat. Contact the professionals at SERVPRO today for help.
Stop Water Damage at a Stony Brook Library in its Tracks
One of the biggest threats to a library may be the potential for damaging incidents to destroy entire collections at once. While not usually severe enough to cause a total loss of even a single section, damages must be dealt with promptly and by professional mitigation experts to save as many books and materials as possible. Water damages tend to be common across most of New York, whether from failing pipes, occasional mishaps, or minor storm damages. Regardless of where the water came from, you should always seek help from a company like SERVPRO that has the workforce and training required to handle large-scale issues in a small time frame.
When libraries in Stony Brook take water damage of any kind, they may face a significant threat to collections that could be difficult or impossible to replace, regardless of cost. Replacing an entire rack of books (or more) could also be an expense that your budget leaves no room for. SERVPRO focuses on mitigation and restoration to keep replacements to a minimum. We can dry out books, restore flooring and other structural materials, and call in specialists to handle particularly valuable or delicate items that may have been damaged. Calling us as soon as you identify a problem is vital to the success of our operations: the faster we arrive to start reversing damages, the more items and structural fixtures we can avoid replacing.
Even relatively minor issues like a leak or excessive humidity can cause damage to both the building and your books. Older books are especially vulnerable to moisture, and all unprotected paper can lose strength and start to develop mold growth when moisture levels get too high. Most leaks can be cured with common store-bought remedies and humidity should dissipate with more intense climate control in the building, but by the time you can identify any fungal growth or warping of materials, you should give us a call.
SERVPRO of Port Jefferson is an experienced and fully certified provider of water damage mitigation and restoration services for the local area. Call us 24/7 at (631) 476-5300 for emergency services or a quote.
Click here to see more about Stony Brook.