When Flood Damage Becomes a New Menu Item on Your Stony Brook Restaurant?
10/1/2019 (Permalink)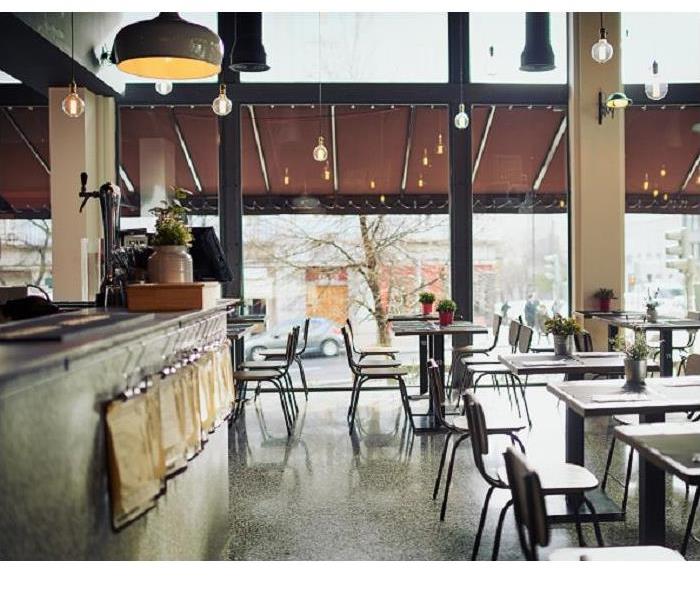 Flood waters can shudder food service establishments. Call SERVPRO to restore your restaurant today!
Getting Your Stony Brook Restaurant Open Again After Flooding
As you might expect, the priority of every restauranteur after a flood or other disaster is to get their Stony Brook eatery back up and running. Hungry patrons are not always the most loyal customers, and so you have to focus most on the work that gets the restaurant safe and secure for customer traffic and food preparation again. Our team has effective products and equipment to address nearly any obstacle that affects your property after this emergency.
Flood damage in Stony Brook restaurants can spread quickly from the penetration point and migrate throughout the main level of the building. The objective after flooding begins is limiting this spread and protecting the property as much as possible. Because you have likely already vacated the premises, the best proactive stance that you can take for your business is to reach out to our SERVPRO team as quickly as possible.
Natural flooding presents substantial risks to your facility and those exposed. Category 2 – Gray water – and Category 3 – Black water both present significant bacterial and contamination threats. Overcoming this risk in your building can often require controlled demolition and reconstruction efforts as exposed porous elements like drywall, wooden fixtures and furniture, and carpeted areas must all get removed and discarded to reduce the spread of contamination.
We have a team of restoration specialists that can work alongside our in-house commercial contractors to expertly navigate water loss mitigation strategies. Because of your investments in areas that can still get salvaged from indirect moisture exposure, such as dining fixtures like tables, chairs, booths, and more, getting the full measure of this mitigation and emergency construction effort is critical.
Getting your doors back open is a top focus of our SERVPRO team on-site. We can quickly remove or reduce water damage by utilizing our industry-leading drying equipment, including the hundreds of air movers and dozens of dehumidifiers we have in our inventory.
Because of how strict food and beverage guidelines are for business owners, you cannot risk a contamination or mold situation getting out of control. As alarming as flooding might initially seem, our SERVPRO of Port Jefferson team has the power and focus to help however you need. Give us a call today at (631) 476-5300.
More about Stoney Brook.