Attention Rocky Point Homeowners--SERVPRO Can Restore Your Home Following Leaks in Pipe and Drain Lines
5/6/2019 (Permalink)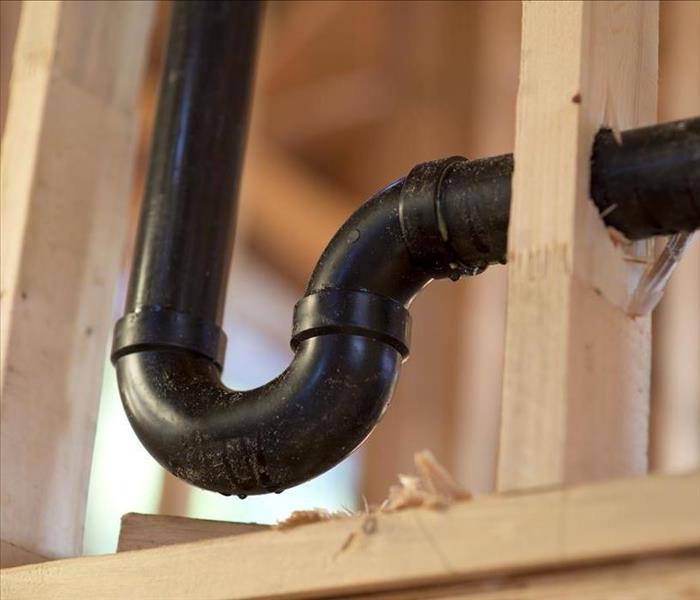 SERVPRO Says--Inspect for Drain and Water Line Leaks to Help Prevent Water Damage to Your Rocky Point Home
Cracks in Drainage Pipes Lead to Water Damage in Rocky Point Residences
Winter weather in Rocky Point brings us many days of freezing snow and ice. Such cold temperatures cause water in pipes to swell, sometimes cracking those pipes and letting leaks develop. Drainage pipes can also sustain similar problems. When drains leak, however, they only do so while you are flushing water through a tub or sink.

Without the pressure found in the water pipes supplying your Rocky Point home, these broken-down drains leak water into your home and cause water damage at a much slower pace than if a break occurred in a feed line. Because water coming from a drain seeps in at a slower rate, as well as below the floor, it may take months to notice the situation.

SERVPRO's water damage specialists hold certifications from the Institute of Inspection, Cleaning and Restoration Certification (IICRC) and can restore your home "Like it never even happened" after such a situation develops. We use thermo-hygrometers to detect excessive amounts of water vapor in the air. Leaks in your residence's drainage system can create a damp environment, as well as a foul odor. When we detect elevated moisture in your home's air, our infrared imaging cameras show us areas holding increased amounts of moisture in the nearby materials.

When drains turn out as the source of the water damage inside a house, sealing these off or otherwise repairing them protects our subsequent work on the materials of the home. Without locating the area allowing water to leak into your home, mitigating and restoring any areas with water damage becomes pointless.

Cutting away any elements of the home that we cannot restore requires replacements, so we always remove as little as possible. As we do this, we keep an eye out for mold damage and additional hazards. Water can corrode electrical conduits, as well as cause other problems. We advise you of each new development and assist you in deciding which options best suit your needs.

SERVPRO of Port Jefferson can help restore your home, every step of the way, when water damage ruins our home. Call us at (631) 476-5300. We serve those in Miller Place, Mount Sinai, and Poquot.
What to do in Rocky Point? Try this.